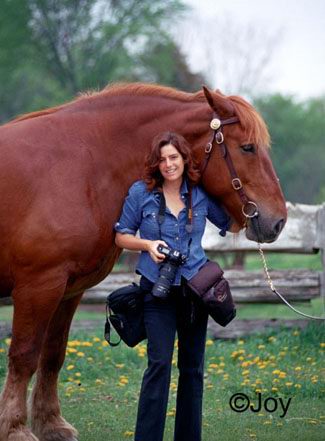 Shawn Hamilton (MacIntosh) was born in Halifax, Nova Scotia in 1961. Moving to Ontario in 1973 growing up primarily in Prince Edward County, Shawn attended The University of Toronto where she obtained a Bachelor of Science degree majoring in Computer Science. After a career in data base management in the advertising industry her passion for horses and photography grew increasingly stronger and in 1984 CLiX Photography was created. In 1986 Shawn's work appeared on the cover of The Corinthian Horse Sport magazine and The Canadian Horsemen and she has never looked back.
After covering five Olympics starting with Barcelona, the last one being Hong Kong, as well as numerous World Equestrian Games and other international events Shawn has geared her focus to Equine Travel. From wine tasting by horse back in South Africa to Crossing the Andes from Chile to Argentina Shawn has published various articles with outstanding images on her Equestrian Excursions. To read some of her travel stories http://www.clixphoto.com/news.php
CLiX photography can be found on the covers and inside magazines such as Horse Illustrated, The Trail Rider, Horse Sport, Horse Canada, The Horse, Equus, Practical Horsemen, Dressage Today,and countless more. To see some of her magazine covers http://www.clixphoto.ca/gallery.php?gid=215
Shawn has four non fiction children's books published by Scholastic Canada titled " Crazy For Horses", " Still Crazy For Horses", " Crazy For Ponies" and " Totally Crazy for Horses" ( author Karen Briggs) as well as the 2004 & 2005 Hallmark horse calendars.
For other published work http://www.clixphoto.ca/content.php?content=102
Shawn is available for private photo shoots and has now embarked into the fine art world. With various sucessful art shows under her belt including The Womens Art Festival in Kingson, Ontario and the Fantasy in the Forest Art Show just north of Kingston, Ontario her work now hangs in homes across the country. Please take a look at her artwork at http://www.clixphoto.ca/gallery.php?gid=1715.

In order to share the joy that photography has brought her in the past Shawn has decided to run courses on both basic and Advanced photography as well as tips and tricks on how to photograph horses. For information on courses http://clixphoto.ca/content.php?content=104

After a three year stint in Cuba Shawn now resides on a small farm in Campbellcroft, Ontario with her husband Joe, three horses, a large Bernese Mountian dog and a crazy cat who both follow her on her rides. . Shawn enjoys trail riding and eventing and is a level 2 ski instructor.
In the midst of running CLiX, raising four children and caring for three horses Shawn still manages to find time for other hobbies such as riding, guitar, skiing, snowboarding and mountain biking.